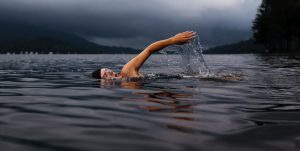 I have come to a view that a lot if not all of success in life is purely about luck.
No talent involved,  No skill. nothing.  Just pure random dumb luck.
Those heroes we pick and admire. Just luck.
Swimming champions, luck mostly. A few laps here and there, but just luck really.
Rich and successful people, just luck. Millionaires-> Just Luck. Champion Jockey's-> Luck.
That man with that gorgeous woman on his arm (or visa versa depending on your gender). Just luck.
You line up the to 500 people of the Fortune 500 in the USA, and ask how many were in this list ten years ago, or will be in the list 10 years from now. The answer is not many. You see they just got there by  luck.
They got there by pure chance. Random opportunity. The Blue Bird landing on their shoulder and singing a song of riches..
My seemingly "tall poppy" boosting, negative attitude has lost me a few friends.
In fact one person, who I respect a heck of a lot, probably thinks a way lot less of me because of my stance on luck and randomness of success then I would like. They mutter in hushed terms, and don't invite me round any more, don't reply to my e-mails. I can hear them taking the short cut in evaluation by judging "Alan doesn't drive a BMW, what does he know about success." (Hey I like Hondas!).
They subscribe to the theory about personal development, inward change and the success mantra.
The thought that success can't be guaranteed by such things is an awkward, challenging and ultimately rejectable proposition for them.
Those reading my previous blog posts, would tend to think that Alan has been making those fancy Queensland magic mushroom stews again. Either that or am I turning schizophrenic? ( I asked myself, but I replied that I wasn't sure if I was). 'Cause my previous posts were seemingly aligned to that line of thought: personal development->success.
But as in most things I like, there is a twist to this tale of random hopeless fate. Here is the kicker.
Success is all about Luck, but moreso what you do to get luck, how to spot it and what you do with it when you have it.
The three "R"s of Living a Lucky Life.
Be in a position to Receive it
Be in a position to Recognise it
Be in a position to Realise it.
Position to Receive it:
Guys, you can't get a gorgeous gal on your arm, it you don't meet lots of eligible girls.  Find out where those smart, available gorgeous girls are and go there.
If you want to get lucky selling things, then make more sales calls. More calls, you are positioning yourself to receive more luck.
Nothing happening where you are in work. Then quit. Find another job. (or preferably, find another job, then quit) Make a change, try new things. Just try anything. Things, not working, try something else. Want to get wet? Stand outside. Go to the place and position where more good things can happen to you. Try try try.
Position to Recognise it.
You must be in a position to recognise the opportunity when it arises. Successful people see the opportunity. The successful investor sees, when the share bargain arrives, or the real estate person, sees when the  house is being offered way below the real value. The old saying goes, "you make money in real estate when you buy not when you sell".
You get ready to recognise it by failing. Unless you try a few things you won't know if they are good or bad. Experiment. Learn from others failures. Failing is GOOD!
Ask people. Ask experts. Listen learn. Ask questions. Go to seminars, training. Think independently. Listen to advice, but don't blindly follow without thought. If you're a grazier – know your cattle, not your chickens. If you know your chickens, don't be go out looking for good cattle at the sales yards.
A friend of mine who owns a very successful Golf Shop Franchise, who I'll call by the name "Terry", because that is his name, told me this story.
He had an interesting position, in that, he recognised that he couldn't tell the opportunities when they arrived in his store, so he trained his staff to treat everyone like they were the next pure gold mine.
He relayed this story to me – along these lines: One morning, one of his staff members was cut off in the car park by a rude, arrogant, and completely in the wrong abusive driver. The staff member as walking across to give this aberrant driver more than a modicum of verbal justice. Terry saw what was happening and rushed over and intervened.
He said, "Mate, I don't care what they did. You're wearing our company shirt, your outside our shop, they may be a customer". Terry realised, that this idiot, could be a pure distilled walking (but abusive) token of luck. He was right. The person walked into Terry's shop and spent several thousand dollars on Golf equipment.
Position to Realise it
Now you have that golden opportunity, what are you going to do about it.
If you havn't trained hard, how can you win that race. If the customer comes to you looking for particular product, if you don't have them how can you provide it. If you haven't fostered a good relationship with your bank manager, how can you get that loan?
Here it's about preparation. Boring dumb preparation.
Its those things you want to avoid. Its analysing those mistakes when you fail.
Its those networking functions were nothing comes back.
Its those connections, with the people you nice to without reason.
Its those friendships and relationships that you have in your web of trust.
Its your reputation and your level of emotional capital to call in favours at the right time.
It knowing and valuing the key abilities and capabilities of everyone you connect with.
Its the boring unexciting hard work, that happens when  no-one is watching. Its that night time course you took, that university degree, that inspiring biographical novel.
and yes, that personal development course.
The Full Circle
We've come to a full circle. Life isn't just about luck, its about luck and self development. Carpe Diem. Its all the things that you do. Being a champion, isn't about the winning, its about the training, preparation, swimming those extra laps, education, research, relationships, connections and people.
By most of all its being in a position to Receive, Recognise and Realise it when golden opportunity passes by.
Have a lucky day.